The Winery Concert Art Venue
Loading...

Welcome To Our New Uptown Winery Experience!
>>>>See All Shows That Benefit The Kids!
>>>>See Saint Pierre's Amazing Show Guitar
>>>>See The Visual Art Exhibit At This Show
MESSAGE FROM THE PRODUCER:
First, we would like to say thank you to all our fans and supporters. For three years, our visual artists and performing artists have taken audiences to high places filled with extreme enjoyment. Masters come together in the Concert Art Shows***. The mission continues with the "Convergence Of The Visual Arts & Performing Arts". Every concert is an art show. Check our On Line Gallery of extraordinary visual artists.
>>>>See On Line Gallery
Check out our new fund raising cause to help the kids!
>>>>More On Music & Art For Youth
Both of these wonderful projects are making progress to help many kids and many of our artists! It's all about education and development of the young generation as we become a non-profit 501 (c) 3 for 2013. The fund raising silent auctions are an additional facet that is growing too!
We are pleased to announce our new winery facility! The amber ambiance has the unique feel to enhance your weekend! The venue is designed for a remarkable wine tasting and art experience! Funds are helping benefit the young generation in obtaining student scholarships in the arts.
***All shows are subject to change due to circumstances beyond our control. We reserve the right to limit ticket distribution.

Enjoy Our Visual Art Silent Auction!!! Enjoy bidding on your favorite art at our next Concert Art Show. Help the artists! Help the Kids! Some of the best deals come to you when you follow the bidding lead... It's easy... It's fun... It's a classy way to get art you love... It's at our next show!
Concert Art Shows
a Saint Pierre Production In Uptown Ventura
SHOW LOCATION: 4517 Market Street Ventura, CA 93003
(805) 654-1577

MUSIC VIDEO TV TAPING At All Concert Art Shows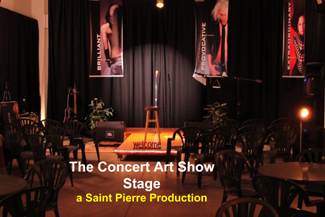 The Concert Art Shows are produced by Saint Pierre in the New Art City, Ventura. The stage is pictured above. "Every Concert Is An Art Show". Celebrating the cultural arts for over three years. Thank you to all our fans. "Best Venue Ventura" with our new exclusive: "The Winery Concert Series".

See Our Concert Art Shows